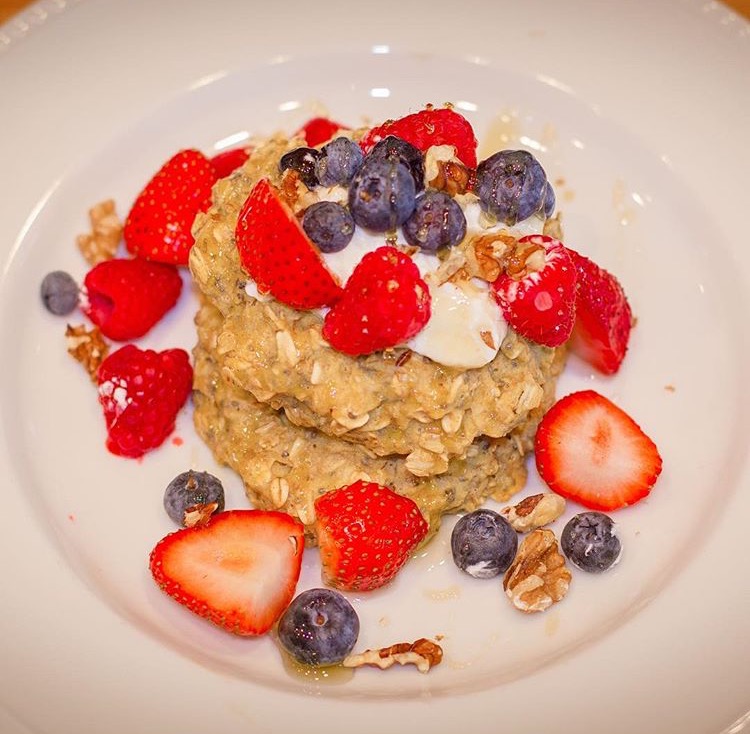 Crustless Mini Quiches- Grab 2 of these as you're out the door for some filling protein in your gut.  When I prep these ahead of time early in the week, I add whatever vegetables and cheese I have in the fridge. At around 100 calories a piece, the combinations are limitless!
PB&J on a whole wheat bagel – Call me an 8 year old, but I'm obsessed with peanut butter and jelly! I use 2 T of natural almond butter and slather a thin layer of raspberry jelly on top (make sure you find a kind without high fructose corn syrup!). Thomas whole wheat bagels give you 11g of protein and 7g of fiber per serving. If you're looking for a lower calorie option, try the Thomas light english muffins in the blue bag which are only 100 calories and still high in protein and fiber.
Seasonal greek yogurt parfait with high protein granola– While plain greek yogurt is just too drab for some, I like to sweeten it up on my own with some honey. This avoids the high sugar fruit-at-the-bottom varieties which can clock up to 15g of sugar per serving. Serve with a healthy granola (My friends at OnPoint nutrition makes choosing the best kind easier for us in the link above!) and seasonal fruit like berries!
 PB & Banana protein shake- I love an iced cold smoothie on the go in the summer time! This recipe calls for a base of greek yogurt, but I'm a huge fan of vanilla whey protein too (Isagenix is my fav, but you can find it at most grocery stores now a days.)
Wendy's Oatmeal Pancakes- I suggest tripling or even quadrupling this recipe so you have plenty of leftovers for freezing and reheating in the microwave later.
Ingredients:
-1C old fashioned rolled oats
-2T ground flax or chia seeds
-½ C low fat ricotta cheese or low fat Greek yogurt
-2 large eggs
-1 tsp vanilla extract
-1C fresh or frozen blueberries/raspberries or strawberries
-coconut oil or cooking spray
Topping ideas:
-low fat Greek plain Greek yogurt
-fresh berries or sliced bananas
-ground walnuts
-real maple syrup
-honey
-cinnamon
-flax and/or chia seeds
-real whipped cream
Combine oats, ricotta (or yogurt), eggs, and vanilla. Mix until smooth.
Coat a large pan with coconut oil over medium heat. Spoon 2T batter per pancake into the pan. Add frozen fruit to the uncooked side of the pancakes. Cook for about 3 minutes until the edges start to cook. Flip pancakes carefully with a spatula and cook 3 more minutes until golden in color.
Another option for large batches: bake the pancakes in the oven at 350 for about 15 minutes.
Top your pancakes with berries and whatever toppings you like! (i.e. dollop of yogurt, blackberries, blueberries, raspberries, strawberries, bananas, ground walnuts, chia seeds, maple syrup, honey, all natural whipped cream)